Assistance Dogs
Assistance Dogs are specifically trained to assist a person with a disability. Disabilities may be a result of birth, injury, illness or aging. Dogwood uses the terminology from Assistance Dogs International, which has the largest worldwide use of this nomenclature.
Examples of Assistance Dogs Include:
Guide Dogs- assist people with visual disabilities or who are blind

Hearing Dogs- assist people with hearing impairments or who are deaf

Service Dogs - assist people with disabilities other than visual or hearing tasks
Examples of Service Dogs Include:
Physical Disabilities - Service dogs assist people with compromised physical abilities by retrieving objects, aiding with transitional movements, opening doors, operating light or door opening devices, pulling a wheel chair, assisting with undressing, and similar tasks.

Psychiatric Disabilities - Psychiatric service dogs are capable of assisting individuals with redirection, maintaining healthy routines, alerting to symptomatic episodes, locating a person or place during a panic attack, providing physical barriers from others, retrieving medications, interrupting hallucinations or providing comforting behaviors.
Seizure/Specific Medical Response - Seizure/Medical Response dogs assist by alerting another person who can help, retrieving a phone, or operating a switch to call for help. There have been reports that some dogs can detect an upcoming medical crisis (such as a seizure or low blood sugar) many minutes before it happens allowing the handler to take preventative or prescriptive measures.
Autism - Dogs can be trained to support individuals and their families by providing social opportunities and relationship development, providing a constant in an ever changing world, carrying a visual schedule or transitional support, facilitating skill development, and more.
Facility Dog - Many assistance dog training organizations train and place dogs to fulfill other professional roles in healthcare, educational and social service positions. Many of the dogs are trained beyond basic obedience, and well into the assistance dog skill sets. By obtaining a dog that has advanced training, it provides the professional with the ability to maintain attention to scope of their professions, and maintaining privacy acts by alleviating a volunteer handlers presence. Dogs may be placed with therapists, physicians, nurses, social workers, educators, counselors, and even in forensic interviews and the courtroom.

Assistance Dog Etiquette
When you see a person with an assistance dog, it is important to remember to speak to the person first. The dog is working and needs to maintain its attention to the handler. Think of an assistance dog as assistive technology. You would not approach a person who uses a wheelchair, jump in the seat and go for a ride; in the same manner, avoid speaking to or reaching out to the assistance dog. Ask the handler if it is okay to interact with their dog.
Assistance Dog Training
Dogwood recommends Assistance Dogs of the West in Santa Fe, they do not train for Guide or Hearing. You may contact them for an application to obtain a trained dog, or for self-training classes.
Dogwood does offer service dog training on a limited basis, but will not administer a formal public access test (this is meant for non-profit organizations with membership to Assistance Dogs International. Dogwood is not able to join ADI as we are NOT a non-profit.)
Emotional Support Dogs are not considered assistance dogs and do not have the same public access rights. Dogwood is happy to help you train an emotional support dog and educate you about the laws.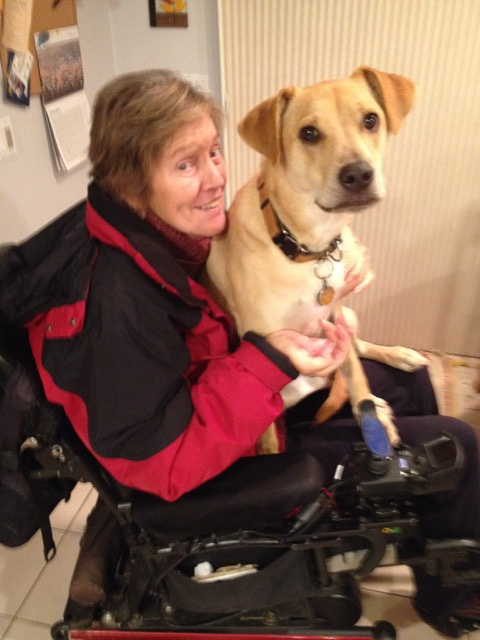 I am a quadriplegic in a wheelchair. I rescued a puppy one year ago and wanted to train him as a service dog. I needed someone with experience training service dogs that could also create the adaptations I needed. For example, I needed to be able to get a leash on and of my wheelchair. Melissa's skills as an occupational therapist and a dog trainer was a perfect fit. She also has worked with people with disabilities similar to mine. Melissa designed a hook for my wheelchair so I could get the leash on and off of my chair. In only four months, my dog has learned most of his cues using positive reinforcement training. It's been an amazing transformation!