Professional Applications of Animal Assisted Interventions: Dogwood Doga (Second Edition)
Professional Applications of Animal Assisted Interventions: Dogwood Doga (Second Edition)
View Images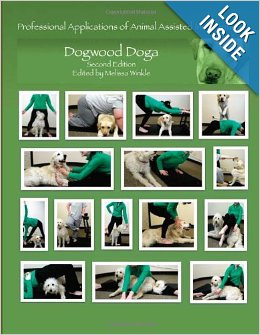 Price: No Price
Availability: In stock
Authored by Melissa Y Winkle OTR/L

The human-animal bond has therapeutic value regardless of the nature of the interaction. Recently, the work has begun to diverge into two distinct directions. First, many organizations continue to support volunteer visiting teams in a variety of community settings; however, a secondary breed of programs are emerging as more healthcare, social service, and educational practitioners carry the responsibility to ensure professional level standards of practice that blend seamlessly with each disciplines practice framework. The patient, client, and student goals are formal and practiced in a discipline specific modality. Dogwood Doga is not meant to be a "cookie cutter" book for activities, rather, it is meant to educate professionals about how to think about intervention or educational plans, activity and biomechanical analysis, modifications, and safety for human and dog. This book caters to those who use dogs in discipline specific sessions.
DOGWOOD DOGA is the first book in a series that offers an occupational therapists perspective on having a canine co-therapist or co-educator work with clients, patients or students to reach functional goals including health maintenance, neuromusculoskeletal and motor skills, sensory and cognitive functions, communication and interaction skills, and more. The book includes pictured demonstrations, instructions, activity analysis, and modification ideas. Each activity in DOGWOOD DOGA also offers information about incorporating the dog and intermediate dog training requirements. It is recommended that users have experience with biomechanics/yoga, and have dogs with solid obedience and interaction skills.
About the author:
Melissa Y. Winkle is an occupational therapist in private practice in Albuquerque, New Mexico. She offers continuing education opportunities for visiting volunteers, animal assisted therapy and education, and assistance dogs as assistive technology options. She is the president of Animal Assisted Intervention International, a European based non-profit organization which caters to professionals who include animals in practice. Melissa is on the Advisory Board for Pet Partners, which trains and evaluates volunteers, and dogs who provide visitations as well as therapeutic and educational activities throughout the community. In addition, she is an assistance dog trainer/instructor for Assistance Dogs of the West and a member of Assistance Dogs International. Melissa offers international workshops, publications and consulting for animal assisted therapy, assistance dogs as assistive technology options, and program development.
Order on Amazon.com
Publication Date:

Jul 24 2013

ISBN/EAN13:

1484199561 / 9781484199565

Page Count:

36

Binding Type:

US Trade Paper

Trim Size:

8.5" x 11"

Language:

English

Color:

Full Color

Related Categories:

Medical / Health Care Deliver